Automated scanners
Automated Scanners
The WesDyne brand Automated Scanners are remotely controlled devices.  They are designed to permit the deployment of a variety of sensing elements including ultrasonic transducers and eddy current probes and are compatible with all WesDyne data acquisition systems.
---
Automated Pipe Scanner – 5080
Magnetic wheels are used for mounting to a variety of scanning tracks providing fast installation on a wide range of flat or curved surfaces.
Removable Y-arms are used with lengths from 8 to 28 inches of travel.
---
Automated Pipe Scanner – 5080e
The WesDyne brand Model 5080e is a  new implementation of the successful 508x series of remotely controlled automated scanners.  This new design completely encloses the two DC servo motor/ encoder assemblies.  This prevents dust and water from entering the motor cavity.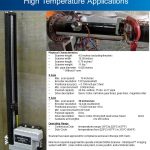 The 5080e is also available in a high temperature operation configuration (5080e-HT).  The scanner can be used on piping with temperatures up to 315 deg C (600 deg F).
Both scanners use the same removable Y-arms as the 5080 (lengths from 8 to 28 inches of travel.)
---
Automated Pipe Scanner – 5085
It uses magnetic wheels to mount to a variety of pipe surfaces.
The Y-axis motor is mounted on the arm allowing the arm to be mounted in a variety of orientations relative to the X-axis truck body.
---
Automated Pipe Scanner – 5015
The Model 5015 is a low profile scanner designed to be used in applications with reduce radial clearance. The design allows for fast installation on a wide variety of flat or curved surfaces.
---
Navigator™ Scanner – 6210
We introduce another product in a long line of innovative automated WesDyne brand scanners – the Navigator. The Navigator is a trackless three axis scanner, ready to run across any carbon steel surface, moments after being unpacked at a worksite. The Navigator is then free to roam any course as directed by its operator via joystick, or under computer control. Best of all, the Navigator is a workhorse scanner. It is ruggedly built, but also flexible enough to handle the rough terrain of real world inspection environments … (read more)
---
Catamaran™ Large Area Scanner – 6310
The Catamaran is a rugged, portable, lightweight non-magnetic scanner designed for inspecting complex structures. The system is suitable for use in production environments as well as in field applications. The Catamaran scanner is a 2-axis gantry consisting of a dual-drive flexible X-axis and a rigid Y-axis. Like a traditional gantry system, the scanner can be used on large, flat structures. Unlike traditional gantries, it can also be used on cylindrical or conical structures such as aircraft fuselages, fan inlet cowls, and vessel heads.
The scanner can also be programmed to a polygon shape of up to 100 points.
---
Ultrasonic Pipeline Scanner – 6410
To address increase in throughput requirements for automated ultrasonic pipeline inspections, the WesDyne brand 6410 automated scanner  inspects the lower quadrant of a specified pipe diameter (i.e 34 inches) for the presence of corrosion. The scanner was designed to allow for an inspection of the 60 foot distance between the vertical support members without operator intervention.