IntraSpect
IntraSpect Data Acquisition Systems
One component of the IntraSpect Imaging system, is a Data Acquisition/Analysis Workstation running Microsoft Windows 10 OS. The workstation is used for all operator interaction involving calibration, acquisition, or analysis of NDE data. The workstation can be custom configured for a customer's needs including the option of a desktop, laptop, or tablet computer.  Third-party software can be loaded to ease report generation.
The other components of the IntraSpect imaging system are the different Data Acquisition Subsystems. The new IntraSpect Mercury, Athena, and Paragon-II systems offer flexibility by allowing the use of multiple Non-Destructive Examination (NDE) techniques when coupled to our IntraECT ET system. That combination provides the capability to perform simultaneous inspections using one or more NDE technologies. The system can be configured for the customer's needs, including:
Two or more Ultrasonic transducers
Two or more Eddy Current probes
Phased Array hardware
Motion Control for any of the automated scanners from the WesDyne product line.
Mercury Advanced Ultrasonic Inspection System
We introduce our new WesDyne Mercury Advanced Ultrasonic Data Acquisition hardware. The IntraSpect Mercury uses the latest ARM based processor in its control hardware as the basis for this new line of UT hardware.  The new controller provides a significant increase in data throughput.  Depending upon the application, speeds of over 30 inches per second can be realized.
The Mercury UT hardware is flexible and can be used for immersion inspection systems, system upgrades, retrofits and as a field portable system.  Applications areas include, manufacturing, nuclear, aerospace, weld and corrosion inspection.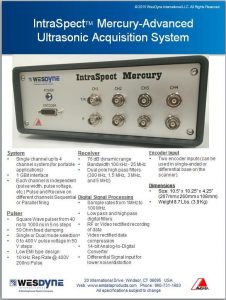 As a field portable system, the Mercury is paired with our new IMC and 5080e scanner; to provide a total corrosion mapping solution. The Mercury system provides a complete and accurate High speed corrosion assessment and imaging solution for the detection and monitoring of corrosion in the energy and oil & gas industries.
Mercury AUT in Ultrasonic Corrosion Mapping Mode.