WesDyne Computed Radiography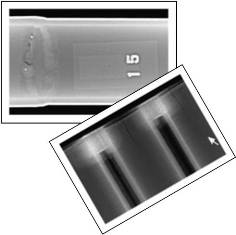 WesDyne provides computed radiography services to address shop fabrication and field service needs
Computed Radiography is more efficient than film radiography therefore shot time is reduced. Exposure times are reduced up to 50% and image processing is decreased to approximately one minutes (as opposed to ten minutes).
Computed Radiography uses phosphor plates which are more portable and useful in field applications. The mobile computed radiography unit can be deployed for these field assignments or portable systems are available for smaller scale jobs.
Computed Radiography images can be digitally transferred, enhanced, analyzed, and archived. Immediate image results are available.
Computed Radiography reduces cost, exposure (ALARA), and schedule duration.
View the PDF file for WesDyne Computed Radiography