PWR Vessel Inspections
Our reactor vessel in-service inspection (RVISI) program is designed to meet the requirements for reactor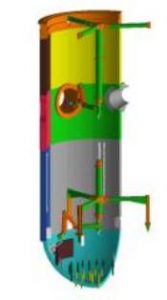 vessel volumetric and visual examinations per ASME Sections V and XI requirements, as modified by 10CFR50.55a and PDI implementation of ASME Appendix VIII with supplements 2, 4, 5, 6, 7, 10, and 14 of Section XI.
The reliable industry proven examination systems allow for a complete inspection of a typical four loop PWR vessel in four days or less. WesDyne's specialized tooling and procedures can inspect nozzles without removing the fuel or core support barrel from the vessel and with minimum use of the equipment hatch and polar crane.
Our SUPREEM (Submersible Platform with ROSA End Effector Motion) tooling system is used to examine PWR vessels. It uses an efficient, compact, and lightweight design along with a modular construction to make setup and take down quick and easy. The SUPREEM inspection techniques are qualified in accordance with ASME Section XI, Appendix VIII, PDI.
Why Choose Us?
Most field experience with ASME Section XI, Appendix VIII, and Performance Demonstration Initiative (PDI) Examinations
Industry proven examination systems that allow simultaneous maintenance operations and that can complete a ten year in-service inspection of a typical four loop PWR vessel in four days or less
Most reliable products engineered for accuracy such as self-centering multipurpose scanners that are preprogrammed with an examination plan and use an interactive 3D model as a visual reference
Specialized tools and procedures that can inspect nozzles without removing the fuel or core support barrel from the vessel and with minimum use of the equipment hatch and polar crane
Remote control systems that can transport and lock devices into inspection locations
Remotely Operated Submersible Apparatus (ROSA™) that has six axes of motion and an excellent history for reliability and versatility